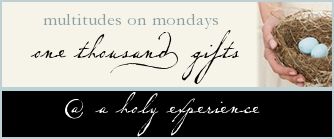 414. Game Night with our Sunday School class that created some great memories.
415. Lunch and shopping with Allison before she leaves for Africa, again.
416. A new dentist
417. An awesome dental hygenist.
418. Running into Andrea at Chiloso, and getting to have lunch together.
419. A record breaking 108 women at Unveiled.
420. Women staying after the event to talk about the topics the speaker covered that night.
421. Getting to meet a dear friends new puppy
422. a husband willing to help in a bind
423. a meeting where we get to dream.