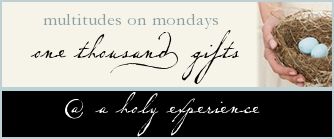 Is it Monday again? I feel like yesterday was Monday. My how time flies these days.
Hanging out with the girls at a baby shower
celebrating and anticipating of the 3rd baby girl to our group!
celebrating the new marriage of two pretty awesome people
seeing how God has changed my heart in relation to kids. It sounds awful, but honestly, 2 years ago, I hated kids. I never wanted to have them, and I wanted to stay far away from anybody else that had them, especially groups of them. If I walked into our Sunday school class in the state of mind I had back then, I would have run away. Today, I embrace the 8 kids that have been born to our class in the last year, and anticipate the birth of 4 more. For the record, I am still NOT ready to have kids myself, but atleast I think they're kinda fun.
A night to relax and be quiet by myself. This is important to a water/earth like myself.
That the computers were only down for a couple of hours today, instead of out all day
being a part of a great growth group and life group.
my hubby can run again. And even though I think he's crazy, he really loves it.