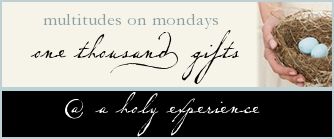 Today is one of those days...really this week is one of those weeks. You know the ones where you're standing in the valley and the mountains block out the sun? Its hard to see the blessings, to even want to look for them...
- dinner with old friends. I just love them. And its incredible how much kids grow! I caught a glimpse of what heaven will be like last night...reunion after sweet reunion.
- Getting a quick moment to catch up with college friends. Again,(be it very brief) a glimpse of heaven. I love those people.
- Finding joy in the trials, because I know that God has more confidence in my ability than me...and I know that I'm growing...and that's a cool thing.
- Lunch with our life group, I don't get to see them as often as I'd like, but they're an awesome group.
- flowers from a loving husband that knows I am at my wits end!
- Working with a group of people that I really love. They drive me absolutely crazy sometimes...and are making me gray at a ridiculous rate, but I love them. And I'm really glad I came back to them, and I know that I'm supposed to be there with them.
- Hazel swimming....ok this is a repeat, but seriously, it never gets old.
- The Mavs winning, because it makes my husband happy. :o)
- as my boss put it...at least the air conditioner works!