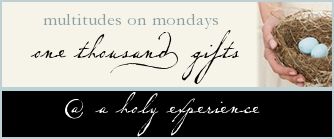 I've decided I don't want to count anymore. Not that I don't want to list the blessings, just that I don't want to number them. Its no longer about the number, I just really enjoy looking back over the week to see where God's fingerprints are evident in my life.
-Helping women feel beautiful at Glamorous Brunch. Such an amazing feeling and experience.
-A work family that loves each other. We fight, I suppose just like a real family, we get on each other's nerves, but we love each other. Dang that place is special to me.
-The hubby cleaned house...on his own...without me asking. HUGE brownie points!
-Getting to know a new couple and realizing its such a small world.
-a kick butt hairstylist
-rain - good soaking rain
-incredibly beautiful weather this week. Just getting to sit outside and read. Walking out of a store and it being the same temperature inside as it is outside.
-open houses with a good friend
-finally giving a gift that my mother appreciates
-feeling included
Be blessed this week,