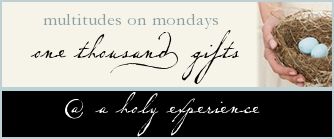 465. Much needed rain this morning
466. New plants for the flower bed.
467. A great new haircut
468. Lunch with friends
469. Beautiful weather which leads to long walks outside
470. Renewed interest in my stamping classes.
471. 2 more babies added to our life group
472. Knowing that I'm being refined and enduring the discomfort of the process with the end in mind.
473. A dog show with good friends
474. dancing