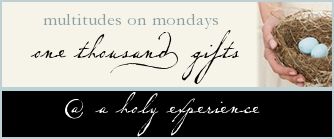 Let's be perfectly honest...I don't feel like counting praises. I've been in a real funk for the last week. My dad went into the hospital with pneumonia last Sunday, my job is extra stressful because I'm training a new girl, my jaw has really been giving me trouble this week and I just don't want to sing praises right now. Can you blame me? But if there's one thing I've learned in counting the multitudes every week, its that when you least feel like counting them, you get the most healing by counting them. So here goes...
455. A precious friend survived a heart attack.
456. The in-loves are finishing up a fabulous trip to Israel.
457. My sister was able to drive over form TN to visit with our Dad, maybe for the last time
458. Dad waking up to talk with me and Cole after sleeping for pretty much 48 hours
459. The hospital he is in is just minutes from my parents house
460. They were finally able to find a room and a sitter so that they could move him out of ICU
461. My mom running into an old neighbor by chance, and they came to visit my dad in the hospital
462. a baby shower that was a much needed distraction. It was so wonderful to get to just hang out with the ladies.
463. Country Potato Soup from La Madeline
464. Knowing a friend made it safely "home" to Africa.
May your week be richly blessed,