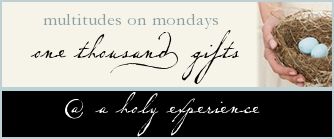 And incredible life group that supports each other when we are really in need. Even if its at a moments notice.
3 hours was all it took to organize an estate sale, thanks to my incredible life group
Baby shower! So fun to get together with the ladies and their babies and shower a new mom with gifts
a Savior that understands every heartache and every temptation, because He has been there
air conditioning
Baby Camden
The beauty of a sunrise
Not knowing how its going to work out...but knowing that it will. He has promised us that much.
Recognition and Praise for hard work, when you feel like nothing you do is right
swimming with Hazel after a long day.
Feeling the nearness of God, amidst the choas, the turmoil, and having a peace that truly surpasses all understanding. I see the storm rage around me, and yet I can bear it, because I am in His protection. I know what its like to not despair in a moment that it seems like that's the only option. I know what its like to have hope and strength that defies all odds.