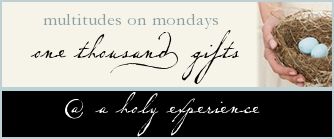 475. A retreat for Women's Ministry Reps that was full of practical info
476. Being chosen for skits
477. A family that decided to dedicate their pool house to the Lord. So many ministries get to meet at this beautiful building because of their generosity.
478. Meeting a friend's parents and enjoying a race with them.
479. Celebrating my birthday with family.
480. That some of us get to plant the seed, and some of us get to water...but God makes it grow.
481. Being at a potluck with TONS of babies, and liking it.
482. A hubby willing to run errands for me when I'm exhausted
483. Rain
484. A new bible study