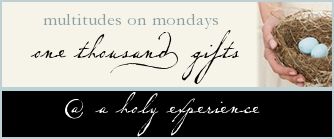 424. beautiful snow... the stillness, the quietness, the peacefulness of snow.
425. Safe travel on icy roads
426. safe travel on snow covered roads
427. Memories made in the crazy winter storm
428. Friends that you can just sit and watch hgtv with after a long week
429. a walk through the neighborhood after a week of being indoors
430. playing board games with the hubbs...even though I lost miserably
431. "shoveling snow" at work with a squeegee and a wet floor sign
432. super bowl parties with lots of good food
433. seeing God move in a big way to provide for his faithful servants.
Have a blessed week,