Started the day off with yoga and now I'm crafting. ;o) I'd say its been a good day.
Here's what I'm working on.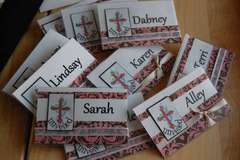 These are name tags for an event that Unveiled is hosting, but I imagine we'll reuse these a lot in the future. Unveiled is a women's ministry for women in their 20s and 30s. Its a place for women to feel comfortable being themselves and growing in their faith. Well, I better get back to work, I've got 18 more to go!